***The old
Herald Statesman
excerpts and other newspaper clippings are from the PDFs at the Fulton History
site
. Unless otherwise indicated, the dates below refer to the dates of the
Herald Statesman
or, if before 1932, the
Statesman
.***
The once magnificent Park View Apartments, 490-494 South Broadway, at the north corner of South Broadway and Lawrence Street, was built after 1907 and before 1914 (I don't have the exact date). For much of the 20th Century it hosted Towers Chemists at the 494 South Broadway store address, which we have looked at
a while ago
. This post is about the stores that occupied the 490 South Broadway address, at the north end of the building.
1. June 12, 1890. In the 19th Century, there was a private house at the 490 South Broadway property, owned by a certain J. Wittmann, who was affluent enough to employ a gardener for the fruit trees on the property.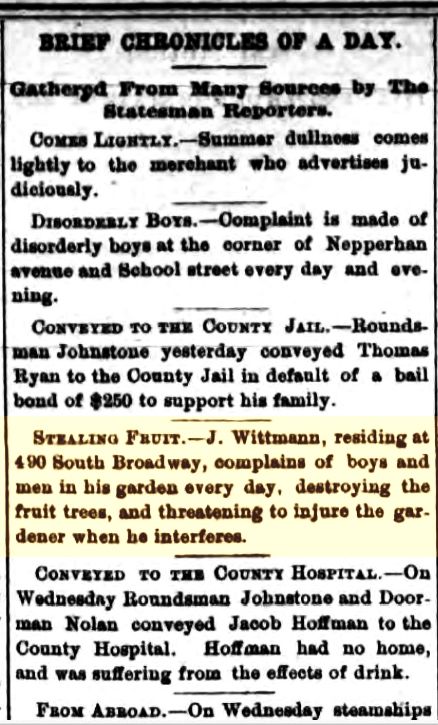 2. July 29, 1903. By 1903, the property had deteriorated to the point of becoming a nuisance, a matter of concern for the Board of Health.
The 1907 map of Yonkers shows the property cleared of any structures, apparently in preparation for the construction of 490-494 South Broadway.
3. This 1914 photo, which we have looked at
previously
, shows the Park View Apartments soon after they were built. The store at the
490
South Broadway address was probably a Sheffield Farms milk outlet.
Sheffield Farms
4. Aug. 19, 1911. In the first half of the 20th Century, before modern refrigeration and packaging became standard, people were obsessed with fears about a milk supply afflicted with widespread spoilage, contamination, adulteration and dilution. This ad from Sheffield Farms -- and the very fact that their milk was sold in dedicated stores -- tries to assuage these fears.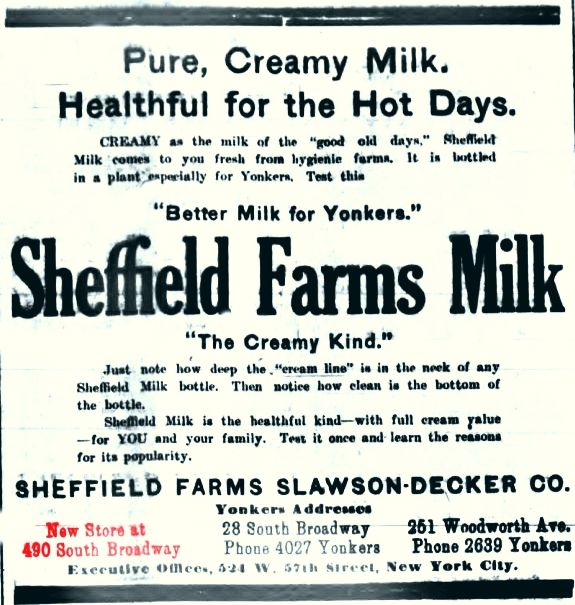 Much of the time the 490 South Broadway store space was occupied by grocery stores, bakeries, or meat markets, many of which were too small to advertise or otherwise be mentioned in the newspaper. Also, the 490 store was a large space, which was sometimes divided, with the second store designated as 490 1/2 South Broadway. There will unavoidably be many gaps in this account.
J.W. Lum, Needlecraft Supplies
5. Aug. 25, 1926. These very old and still silent Our Gang comedy shorts were still broadcast on TV when many of us were children, though of course I greatly preferred the later talkies. Note that commercial tie-ins are not new to the movie industry.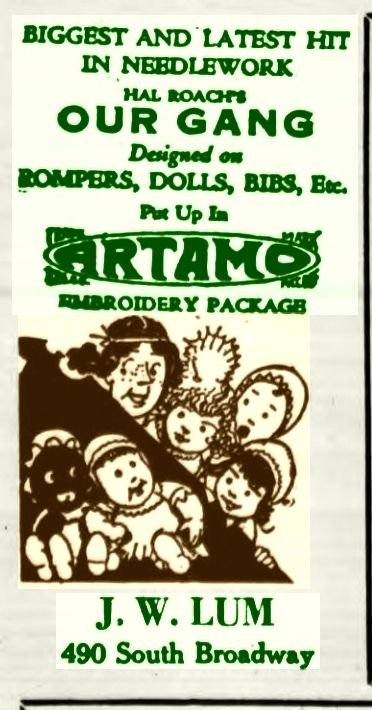 6. Oct. 13, 1926.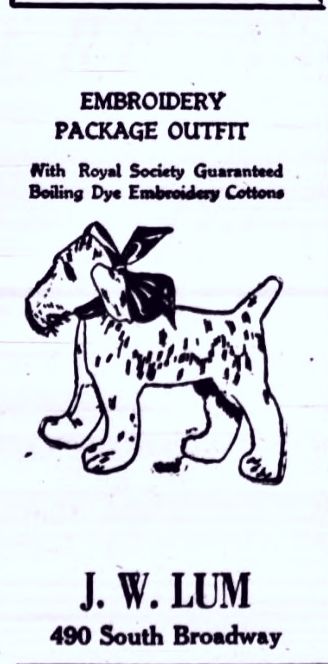 Knitting, sewing, embroidery, crocheting, and rug-hooking remained extremely popular among housewives well into the 1960s.
Purity Bakery
7. Mar. 26, 1929. I have no other information about this bakery. I don't know if they were here up to the time that the better known Sickley's bakery moved in.
James Butler Grocery
8. Dec, 5, 1935. This chain grocery store was not here long. They may have replaced another chain, Mak, at this address.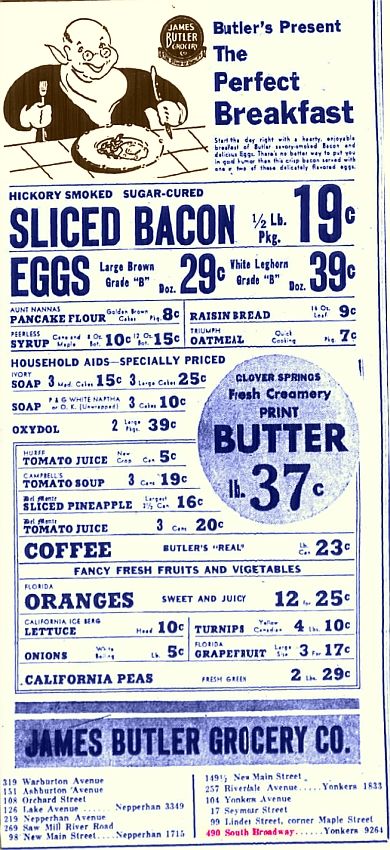 S. Pisacano
9. Nov. 4, 1937.
S. Pisacano
was here briefly in 1937, while their 470 South Broadway store building was being rebuilt (William P. Katz, architect, BTW).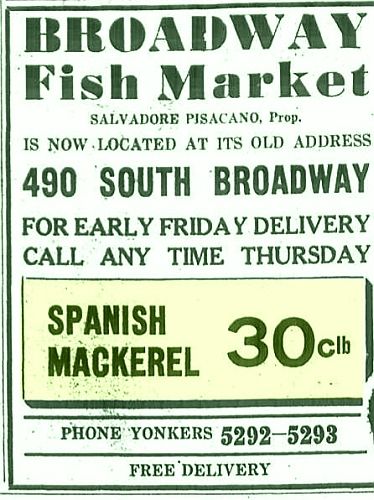 Sickley's Bakery
Sickley's was one of the oldest bakeries in Yonkers, founded in 1886.
10. 1937 ads.
11. 1938 ads.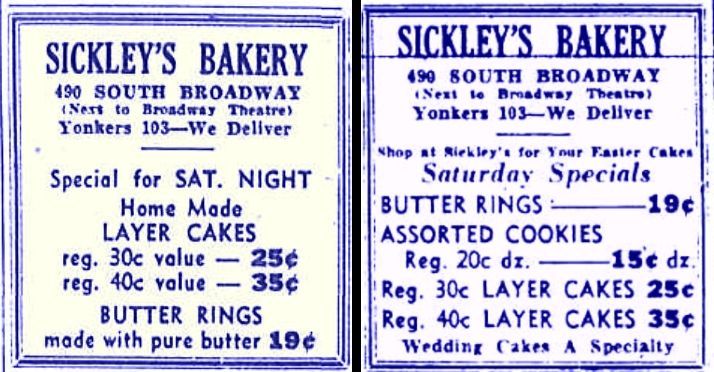 12. Nov. 20, 1939.
13. 1940 ads.
14. June 10, 1941.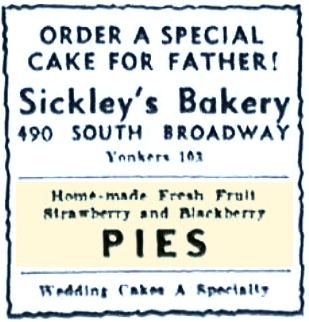 Trump Dry Cleaners
15. Nov. 8, 1943.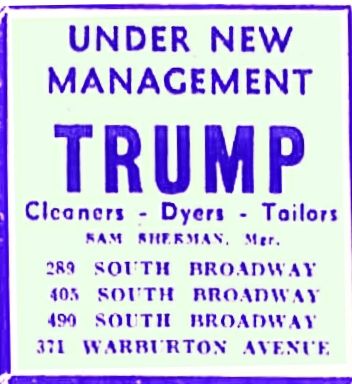 Yonkers Radio and Record Store
Yonkers Radio opened here in 1942 and moved to another location on South Broadway in 1950.
16. Oct. 17, 1947. Gas refrigerator.
17. Dec. 2, 1947. "3 1/2 pounds of glamorous personal radio." Before transistors.

18. Aug. 16, 1949. Primitive TV.
The Bible Store
19. Apr. 5, 1952. The Bible Store opened in 1951 and moved away in 1954.
Bi-Rite Children's Wear and Linens
20. Mar. 23, 1956. In 1955 Murray Mruvka and Manny Margulies, cousins, opened Bi-Rite Children's Wear and Linens. The cousins had previously owned a food store on the other side of South Broadway, and before then, another store in Miami. This store remained in business until at least 1961.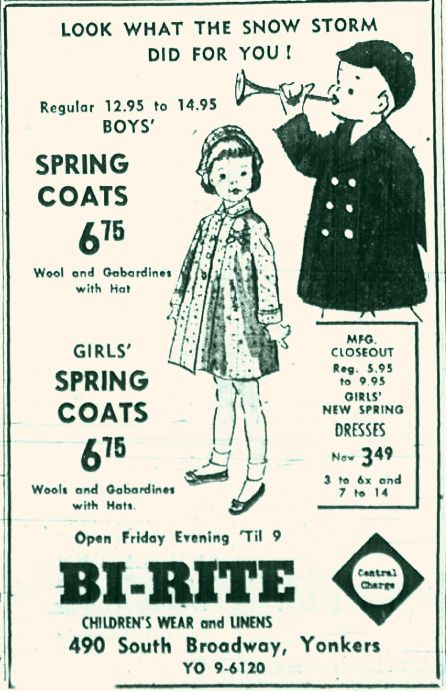 R.R. Mattress
R.R. Mattress was a metro area chain store specializing in odd sized mattresses -- for "midgets and giants."
21. Feb. 1, 1958.
22. Mar. 28, 1958.
23. Apr. 28, 1958. Wide mattress.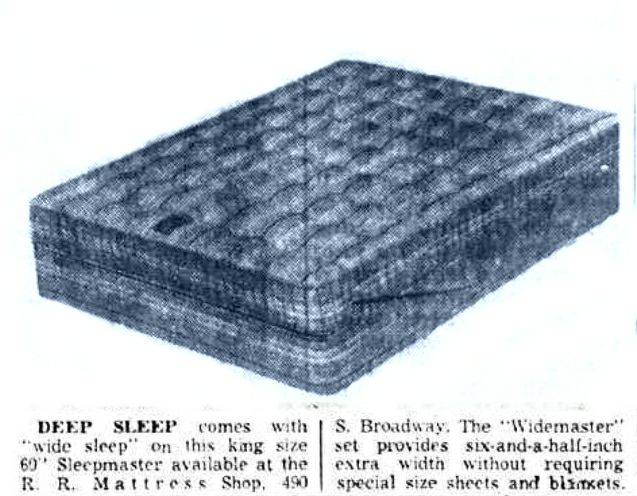 Sherwin Williams Paints
24. July 26, 1968. This Sherwin Williams outlet, which seldom advertised, had been here as far back as 1964.

Carvel Ice Cream
25. Nov. 23, 1970. Opening day ad.
26. July 28, 1975. I don't know when Carvel closed. I did not find ads after 1975.
Coffee Pot Deli and Grocery
27. My 1987 photo of
Yonkers Pastry
shows that the Coffee Pot Deli was then next door at 490 South Broadway.
Metropolitan Restaurant
28. This 2001 tax photo shows the Metropolitan Restaurant at 490 South Broadway.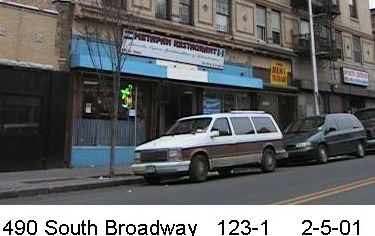 Little Caesar's
29. 2014. My most recent photo shows a then newly opened Little Caesar's chain pizzeria at 490 South Broadway.