***The old
Herald Statesman
excerpts are from the PDFs at the Fulton History
site
. Unless otherwise indicated, the dates below refer to the dates of the
Herald Statesman
.***
On July 15, 2010, IMNick drove us to Yonkers Avenue and Dunwoodie Street so that IMNick could talk to Joe Forlivio and photograph him and his hot dog truck.
Joe is a Yonkers institution. This is what IMNick knew about Joe, plus what he learned talking to Joe:
Joe had CYO Lanes, which was located in the basement of the old CYO on the corner of South Broadway and St. Mary's Street. The entrance was on St. Mary's Street. You went down a flight of stairs. The sandwich shop and game room were straight ahead and the bowling alleys were on the left. After the CYO was closed down, Joe moved up to Nepperhan Ave and opened CYO Wedges ("Home of the Pizza Wedge"), which was between Elm Street and Columbus Place. Joe sold that business and got a hot dog truck, which he has operated for the last 22 years on the corner of Yonkers Avenue and Dunwoodie Street.

1. Joe and Joe's Hot Dogs. [IMNick's photo.]
2. [IMNick's photo.]
3. Joe. [IMNick's photo.]
***
Later, I searched the old
Herald Statesmans
and found that a good deal of what Joe did found its way into newspaper stories.
Bowling
Joe was a champion in Yonkers bowling from the late 40s into the 60s.
4.a. May 20, 1954.
b. The whole article,
here
. (Click again to maximize.) This article is typical.
c. Joe earned dozens, maybe hundreds of headlines on the sports page.
Dec. 21, 1963
, for example.
CYO Lanes
5. As IMNick noted above, Joe had the food concession at the CYO, from around the late 60s to 1974 or 1975, when the CYO closed. I couldn't find any articles saying how well things were going; that is not news. But when the CYO's closing was announced, there was an article observing that Joe would be going away too. Aug. 30, 1974: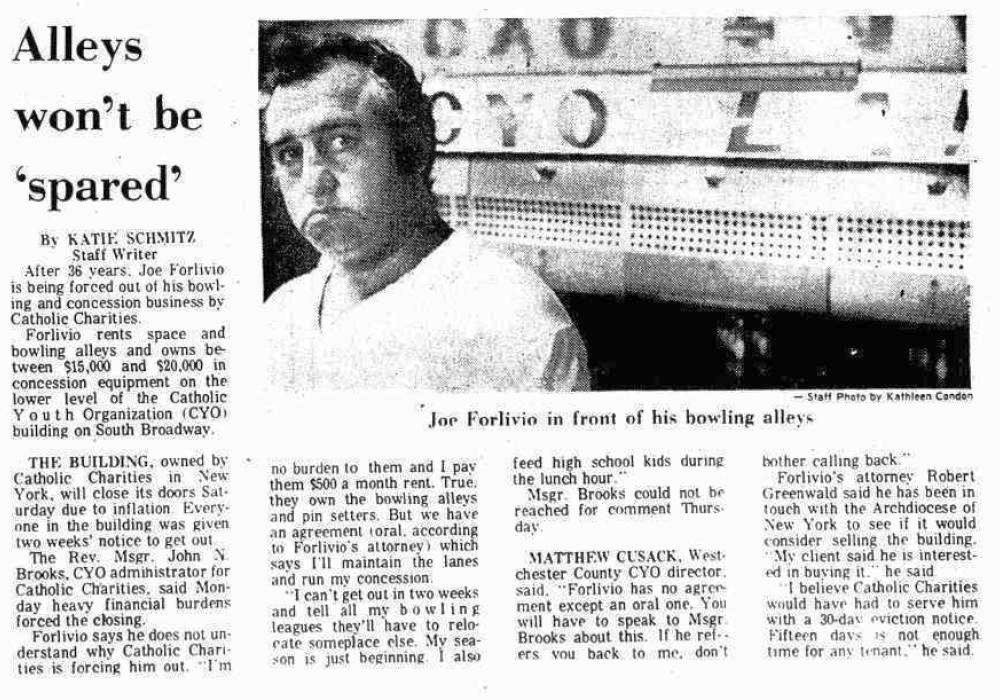 CYO Wedges
Joe reestablished himself on Nepperhan Avenue.
6.a. July 12, 1975. This is from a sports column.

b. Sept. 11, 1978. Joe has invented the Pizza Wedge.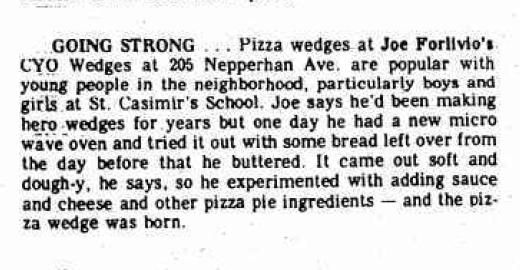 c. Jan. 16, 1978, from "Eileen Campion's Yonkers" column -- more background.
7. June 26, 1981. (This is a jump page -- I couldn't find the start of the article.) Joe's pizza wedges are now so popular that Joe supplies them to other establishments in Yonkers.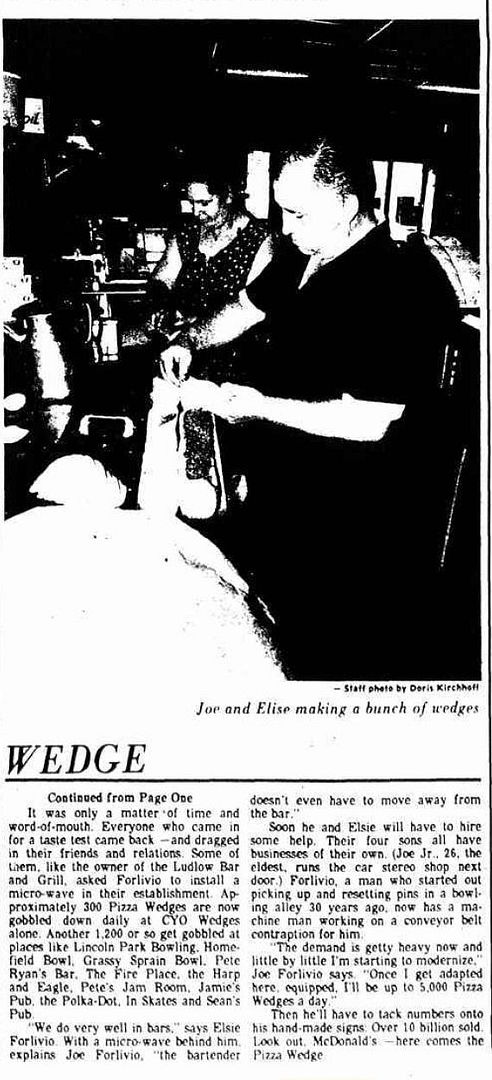 8.a. Video games become a big part of Joe's business. Nov. 15, 1982,
here
and
here
. (Long article with a lot of background.) Unfortunately, there were legal problems with the video games.
b. The city council refused to resolve the video game legalities in Joe's favor. Dec. 13, 1984.
~