***The old
Herald Statesman
excerpts are from the PDFs at the Fulton History
site
. Unless otherwise indicated, the dates below refer to the dates of the
Herald Statesman
.***
Chinchillas are squirrel-like rodents native to the South American Andes. Their fur has an especially pleasant feel to it. The wild population of chinchillas had been hunted almost to extinction when, in 1923, eleven of them were brought to the United States, where they were bred successfully by specialized breeders. These eleven were the ancestors of almost all American chinchillas. In 1943, there were an estimated 20,000 chinchillas in the United States; by 1962, there were 750,000. Chinchillas are small and it takes about 150 of them to make a coat.
Because chinchillas and the fur coats made from them are so expensive, people got the idea that breeding chinchillas could be extremely profitable. This post is about the scams that grew up to capitalize on this hope. The scams and the breeding craze they inspired were national in scope. In Yonkers, they crested in 1953-1955, and then, as with other bubbles, they collapsed abruptly and completely.
The problem was that contrary to hopes, expectations, and ad claims, chinchillas are not easy to breed. The most obvious problem, especially in the 1950s, was climate. Chinchillas are high altitude animals and they cannot survive summers in the United States unless their environment is consistently air conditioned.
Background and Build-Up
1. Chinchillas were naturally gray, but some have been bred to shades of brown.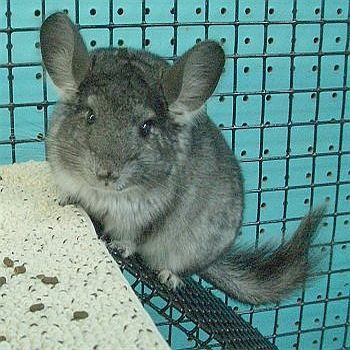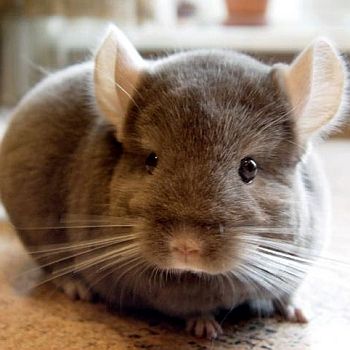 About chinchilla colors, see
here
.
2. Feb. 4, 1935. This auction notice prices a chinchilla coat at $25,000.
Apr. 29, 1940. There is a mention of an exhibited chinchilla worth $1,000.
Oct. 13, 1942. A chinchilla coat is said to cost between $30,000 and $50,000.
2. June 23, 1943. Before the breeding bubble, chinchillas were considered exotic animals, worthy of special exhibitions and newspaper photo features.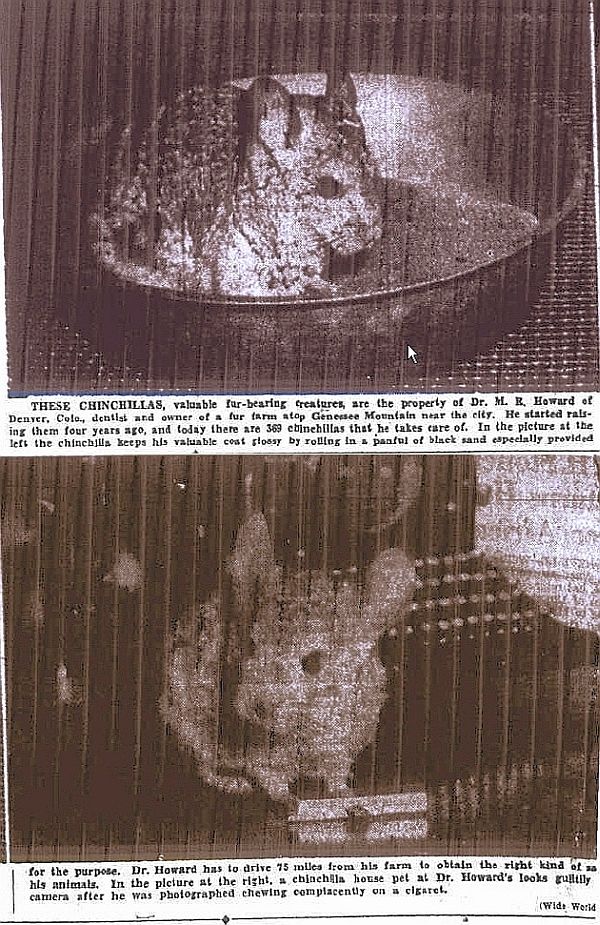 Oct. 30, 1943. Chinchillas sell for $3,200 a pair.
3. Apr. 14, 1946. There was no such thing as AstroTurf in 1946, but there can be little doubt that astroturfing -- the simulation of grass roots interest -- was already a part of commercial life in 1946. In any event, this "How can I learn how to breed them?" question was asked perhaps innocently just months before vendors stepped forward to meet and exploit this demand.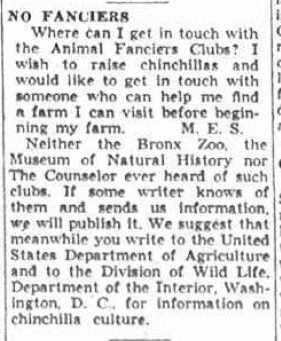 4. Aug. 29, 1946. Note what is being sold here -- starter kits for aspiring breeders. Offerings of this kind are called "business opportunity" offerings and, thanks in part to the chinchilla craze, they are much more heavily regulated now than they were in 1946.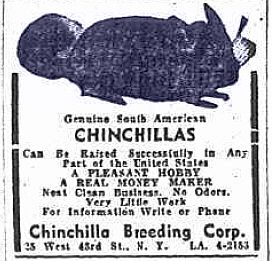 4. Apr. 22, 1947. A mated pair is priced at $1,200.
5. Sept. 4, 1947. "Fractional interests" offered. The implication is that full investments must have been expensive.
For about six years, the commercialized promotion of chinchilla breeding seems to go underground, at least in the New York area, but there is an explosion in 1953.
The Bubble
6. Jan. 16, 1953. Still time to get in on the boom.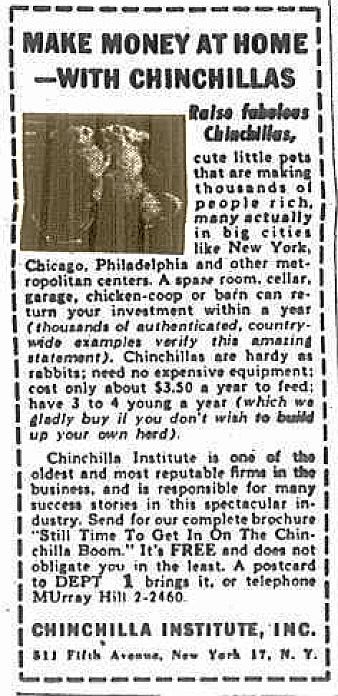 Feb. 16, 1953. There is a promotional chinchilla show at the Statler. The pitch is easy money, politely stated.
Oct. 31, 1953. 300 chinchillas killed in a fire were valued at $120,000 -- i.e., $400 a chinchilla.
7. Apr. 23, 1954. Get into this vital new industry and grow with it.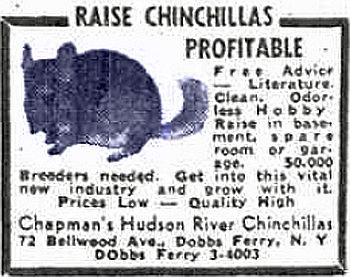 8. July 27, 1954. Only small investment required. Convenient terms arranged.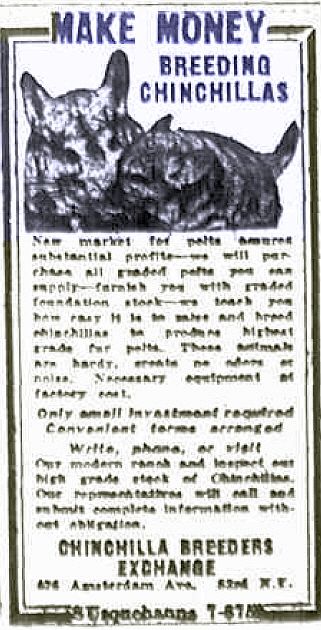 9. Sept. 22, 1954. $375 and up per pair.
10. Feb. 17, 1955. Sixth annual show at the Statler.
10.a. May 7, 1955. Thomas DeNicola of 581 1/2 Central Avenue was the biggest and most aggressive breeding promoter in Yonkers.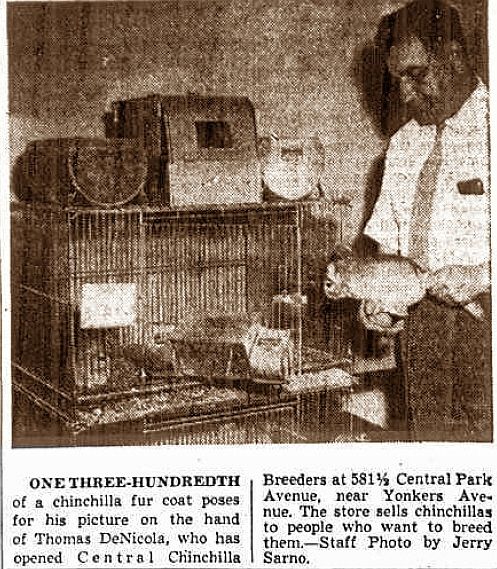 b.
Article
.
c. Yonkers Tax Assessment photo, ca. 1954. 581 1/2 Central Avenue was probably just to the right of the Whelan drug store.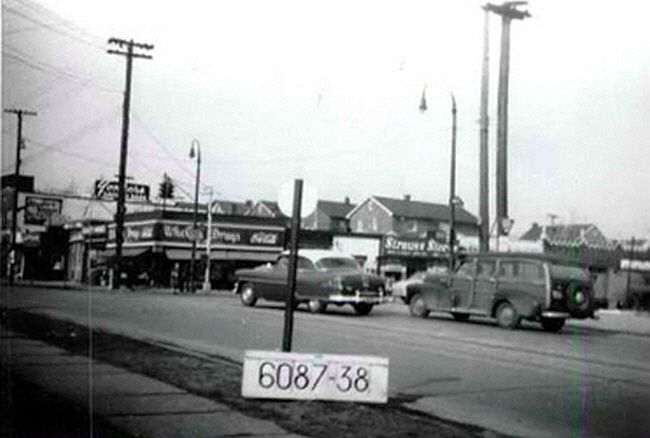 d. Google Street View. Maybe where Subway is now.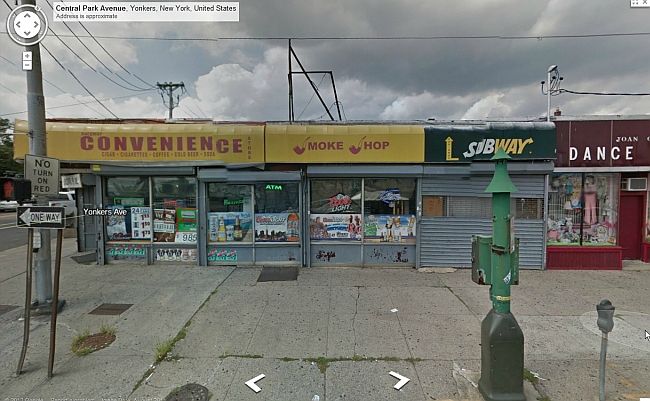 e. May 21, 1955. $695 per pair. It
looks
as if DeNicola was selling high quality chinchillas for a high quality investment. But in later enforcement actions, the Federal Trade Commission suggested that such prices and the pedigrees that purported to justify them were themselves inflated and part of the scam.
f. May 27, 1955. Prices drop, pedigrees become more refined.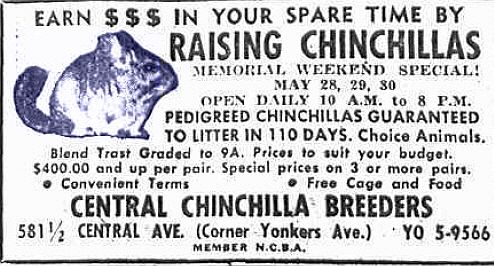 11. May 28, 1955. A New Rochelle firm.
12. June 3, 1955. Another ad from DeNicola.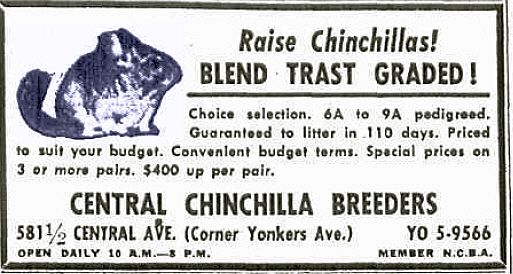 13. Nov. 4, 1955. Another Yonkers firm, with lower prices -- $275 per pair. BTW, Byron Place is a very short side street at the far north end of Seminary Avenue and this particular address seems no longer to exist.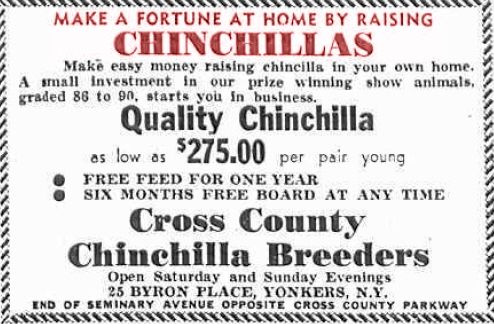 14. Nov. 25, 1955. DeNicola is digging in on his high quality, high price thing.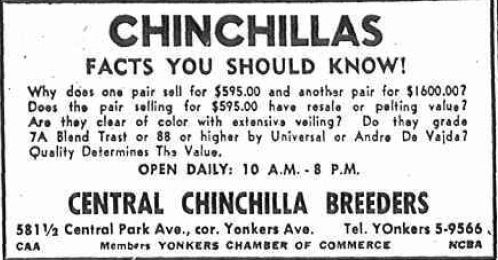 15. Nov. 26, 1955. Perhaps to foster the notion that there is a great demand for chinchillas abroad, Thomas DeNicola branches out into chinchilla exporting, or says that he is.
Article
.
16. Dec. 7, 1955. But the end is near. An ordinary pet shop on South Broadway is selling chinchillas.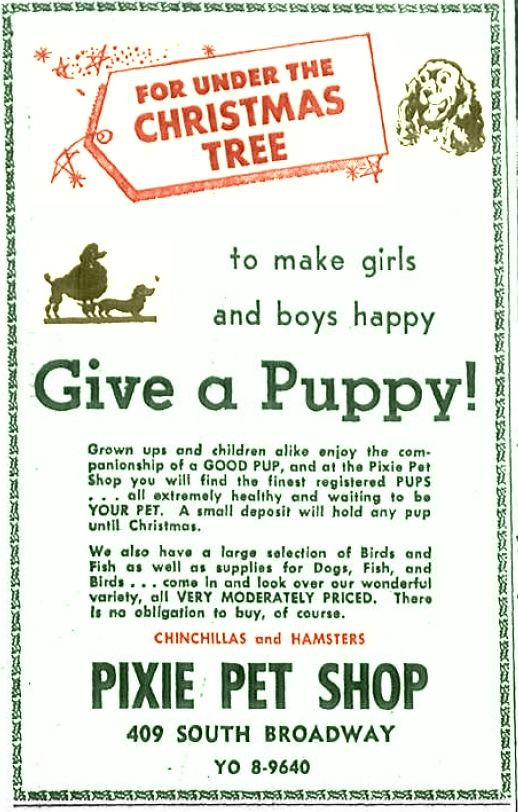 17. Jan. 26, 1956. DeNicola's last ad?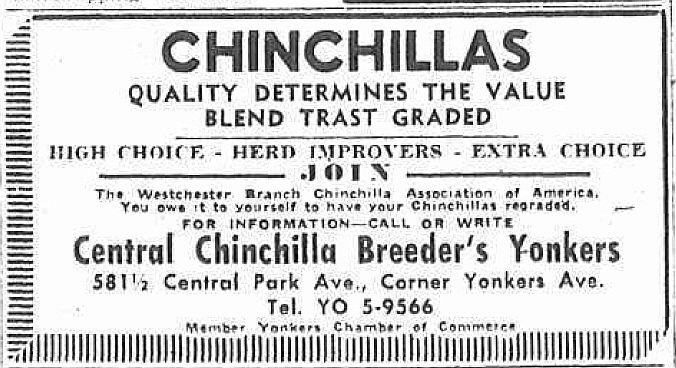 Chinchilladäm
merung
18. Note the direction of prices.
a. Aug. 8, 1955.

b. Feb. 15, 1956.

c. Dec. 13, 1957.

d. 1957 undated.

e. Jun. 1, 1959.

Meanwhile, in the real world of fur coats, life went on.
Apr. 4, 1968. Enzo Stuarti gives his wife Esther a $17,500 chinchilla coat.
Mar. 26, 1978. Drug dealer gives his wife a $15,000 chinchilla coat.
Dec. 18, 1980. Luxury catalog offers a chinchilla coat for $18,000.
As of now, a chinchilla coat sells for about $25,000 -- the same as in that auction notice from 1935. Pet chinchillas sell for between
$75 and $200
, with very fancy show quality chinchillas selling for as much as
$850
.
Appendix
19. In the 1960s, the Federal Trade Commission went after chinchilla breeding promotion scams. A typical enforcement action was
In re Chinchilla Ranchers
, 66 F.T.C. 592 (1964) (consent agreement).
Here
is the FTC's summary of the promoter's false claims.
Here
is the FTC's statement of the actual facts.