***The old
Herald Statesman
excerpts and other newspaper clippings are from the PDFs at the Fulton History
site
.  Unless otherwise indicated, the dates below refer to the dates of the
Herald Statesman
or, if before 1932, the
Statesman
.***
The St. Andrew's Players were a popular and respected "little theater" group in Yonkers from 1933 to 1967. They were affiliated with the old St. Andrew's Memorial Episcopal Church on Morris Street at Livingston Avenue and many of their performances were at the parish house. But they had their own organization, their own officers, and a professional or semi-professional director, and a membership that was not limited to members of the St. Andrew's congregation.
When I search the old
Herald Statesman
s for ads and photos for our "Old Ads" posts, I also copy anything else I see on the pages that might be of interest to us. I noticed that the newspaper liked to run photos from St. Andrew's Players productions, and after accumulating a decent number of them, I decided to deliberately find others and line them all up for us here as a review of this part of Yonkers and general cultural history.
"Little theater" -- amateur or semi-professional productions with serious discipline and professional aspirations -- was big in the Upper Middle Brow cultural avant garde of the 1930s and '40s. (We have already noticed another little theater group in Yonkers, the
Sherwood Little Theater Players
in Sherwood Park.)
Amateur Theatricals
In the 19th and early 20th Century, before serious little theater, there were amateur theatricals. St. Andrew's Church had such a group, from about 1915 to about 1919.  Some of their productions (e.g., the morality play "Everyman" (1916)) were religious. This group happened to call themselves the St. Andrew's Players.
1.
Dec. 30, 1915
. Long review of early Christmas related production.
2. Mar. 5, 1919. One of their last productions.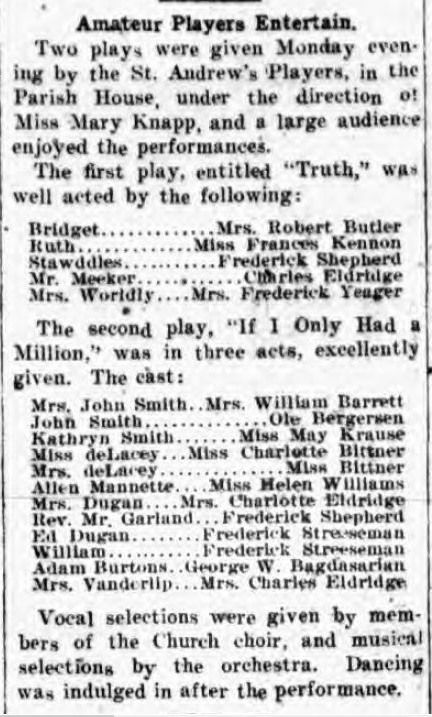 St. Andrew's Players Little Theater Group
When the more serious St. Andrew's Players group organized themselves, there was no specific mention of their 1919 predecessors (at least not in the newspaper), though surely there were still people in the congregation who remembered them. The new St. Andrew's Players gathered informally in 1932 and early 1933, and put on a few plays. But their formal organization, with officers and a designated director (Irene von Osthoff, who had been active in little theater in Florida), was in November 1933, and this was afterwards regarded as their founding date.
Starting with 1934, we can follow the group's doings with newspaper photos.
Early Productions
3. May 30, 1934. "A Bachelor's Honeymoon."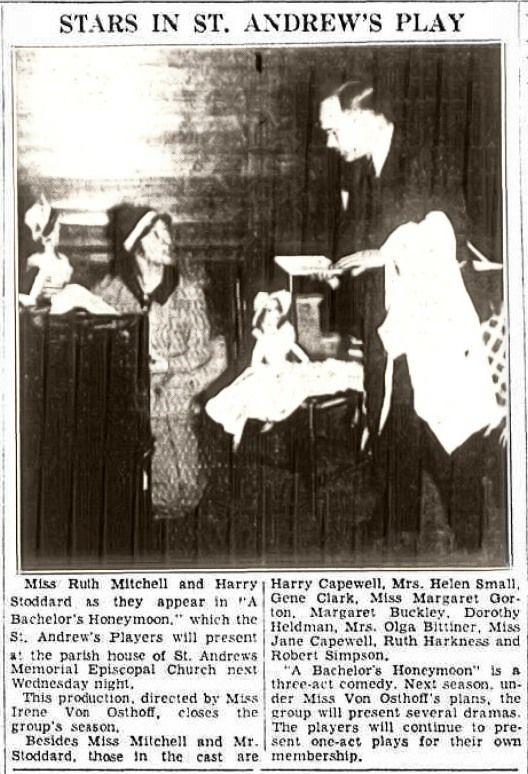 4. May 11, 1935. "How Dare You?"
Organization
5. Apr. 8, 1937. The next month Mrs. Blohm will become the director.
6. June 25, 1938.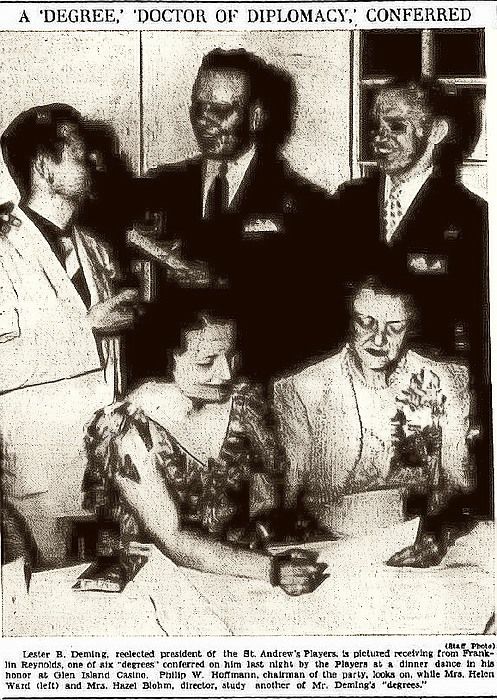 Productions
7a. Dec. 14, 1938. This Christmas festival at Hawthorne Junior High School was a sell-out.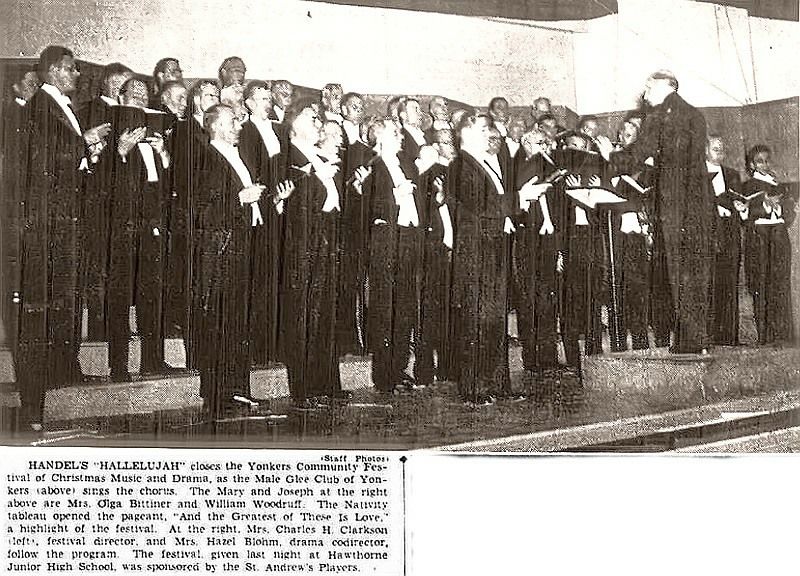 7b. Captioned as "left."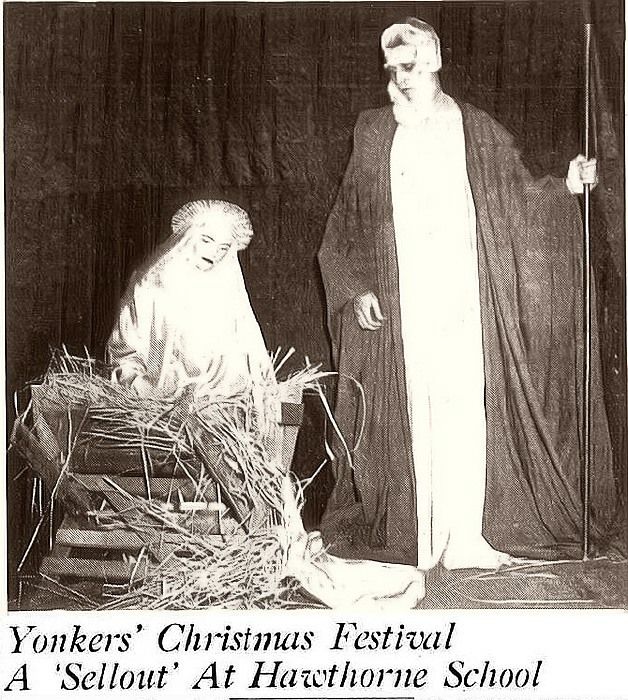 7c. Captioned as "right."
8. May 18, 1939. "Button."
9.
Nov. 1, 1939
. In 1939, the Yonkers Workshop Players, another little theater group, merged themselves into the St. Andrew's Players. There is some historical narrative in this article.
10. Nov. 16, 1939. "The Case of the Laughing Dwarf."
11. Feb. 1, 1940. "Tomboy." The St. Andrew's Players performed "Tomboy" at the Seaman's Church Institute (near the Battery in Manhattan) to an audience of 700 seamen.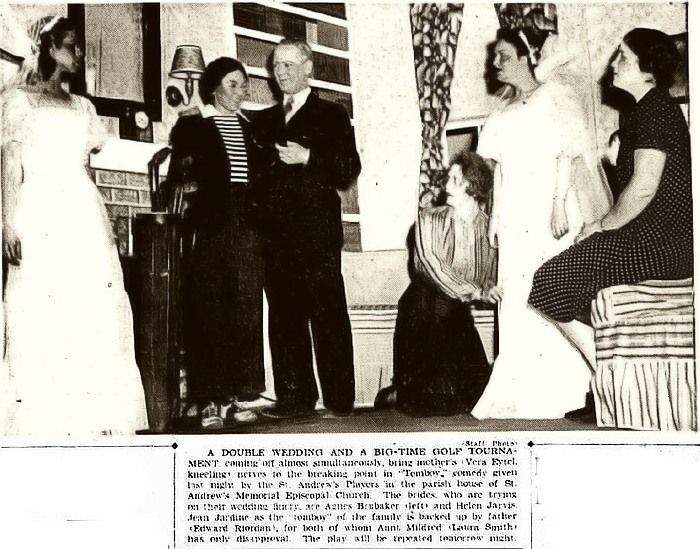 12. May 16, 1940. "The Passing of the Third Floor Back," by Jerome K. Jerome.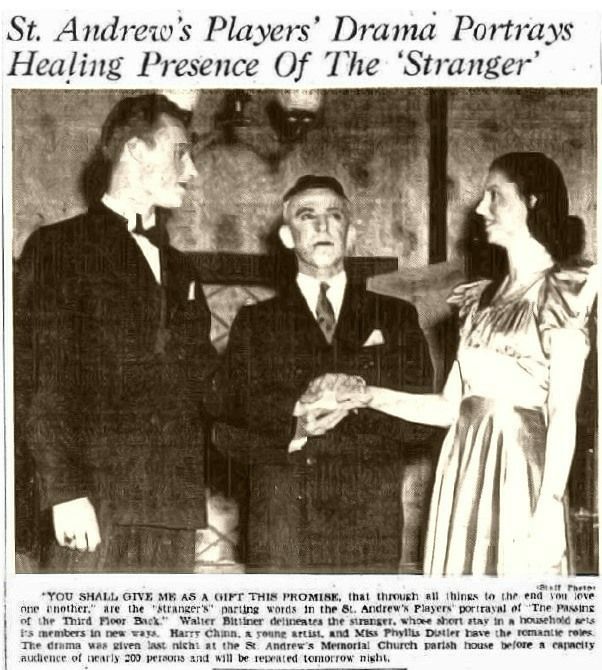 13. Feb. 12, 1942. "Look Who's Here."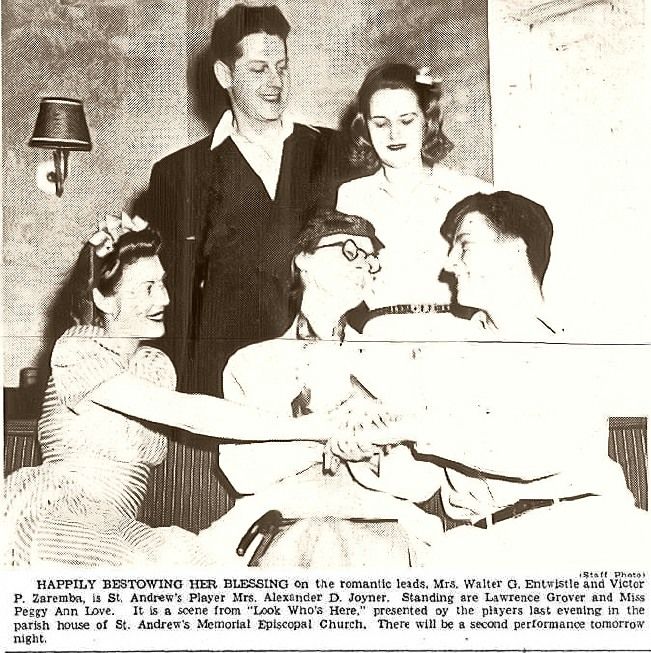 14. May 19, 1947. "Arsenic and Old Lace."
15. Feb. 18, 1950. "Angel Street."
16. Feb. 14, 1952. "John Loves Mary."
17. Nov. 30, 1952. "The Night of January 16th" was written by Ayn Rand in the 1930s and was her first commercial success, though I think a modest one. The play's gimmick was a jury chosen from members of the audience. By 1952, Ayn Rand had written the best selling
The Fountainhead
, and had become a well known author.
18. May 14, 1953. "Jumpin' Jupiter."
19. Mar. 10, 1955. "Bell, Book and Candle."
20. Nov. 25, 1956. Agatha Christie's "The Mouse Trap."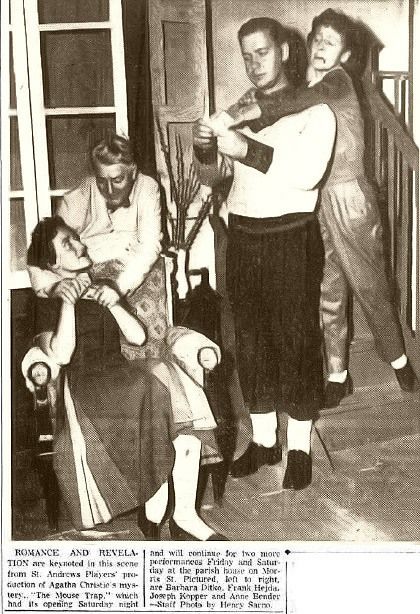 21. 1956 undated. "Second Threshold."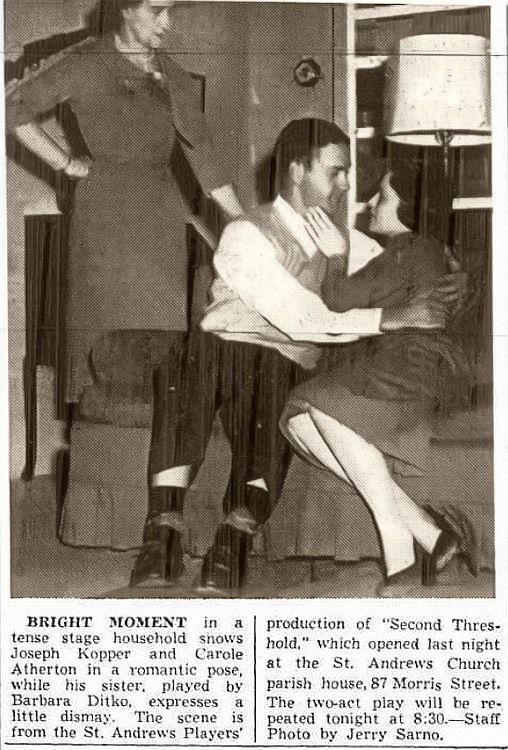 22. Feb. 15, 1958. "The Reluctant Debutante."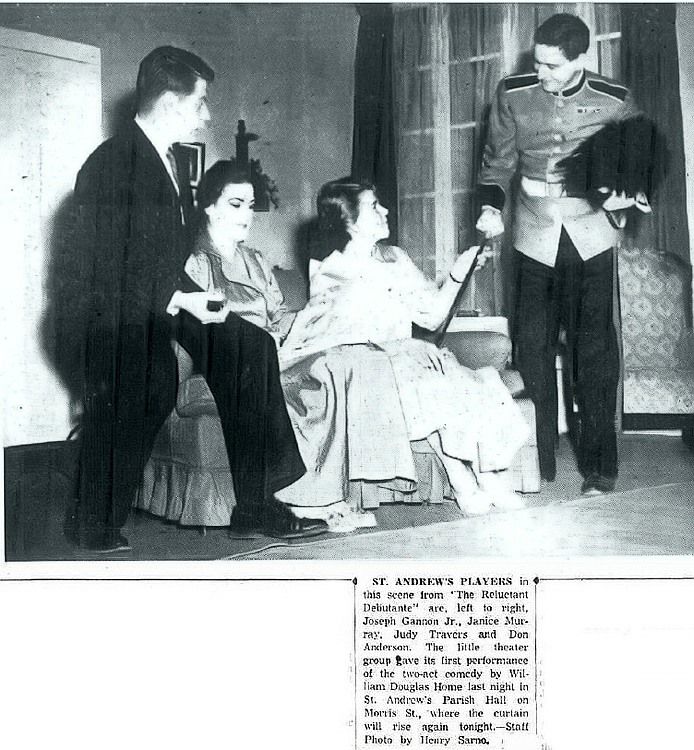 23. May 29, 1958. "Laura."
24. Nov. 18, 1961. "Bus Stop" by William Inge.
25. May 4, 1961. This is only ad from the Players that I found.
26. 1961 undated. "Sabrina Fair." It looks like many of their productions were already familiar to the audience from popular movie versions, if not from Broadway. The 1954 movie version of "Sabrina" was my mother's favorite. The chef teaches you how to crack an egg with the sharp blow of one hand.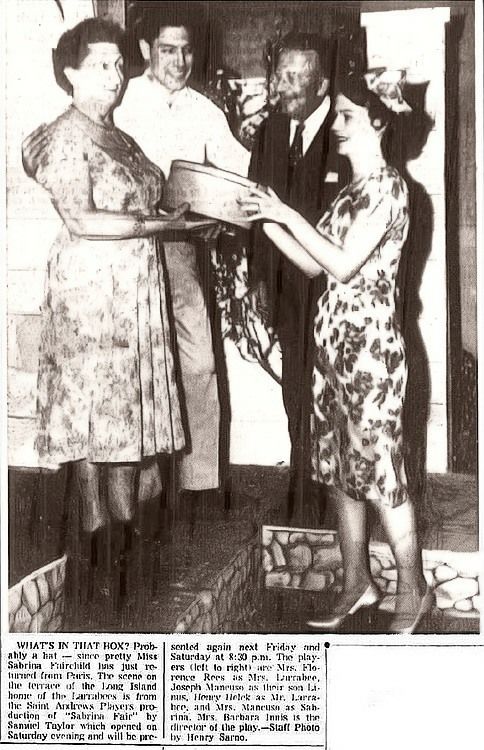 27. Dec. 5, 1962. Agatha Christie's "Witness for the Prosecution."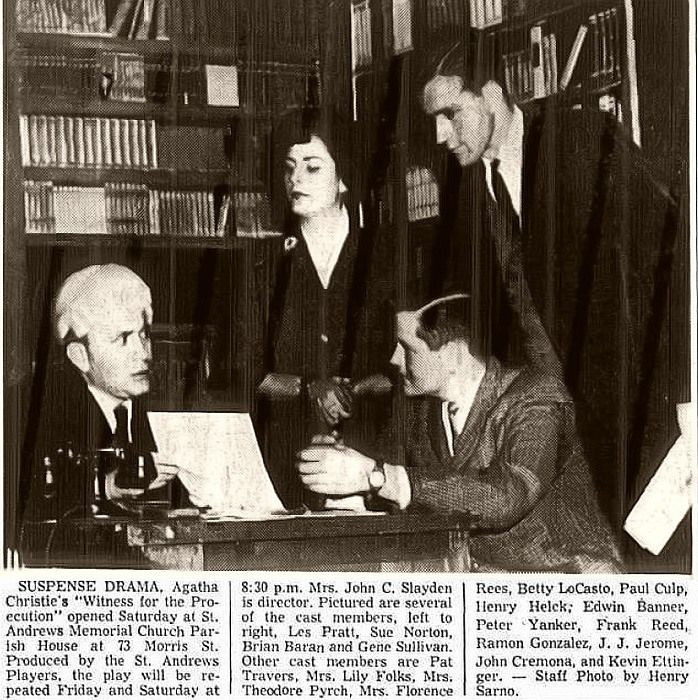 28. Dec. 2, 1966. "Critic's Choice" by Ira Levin.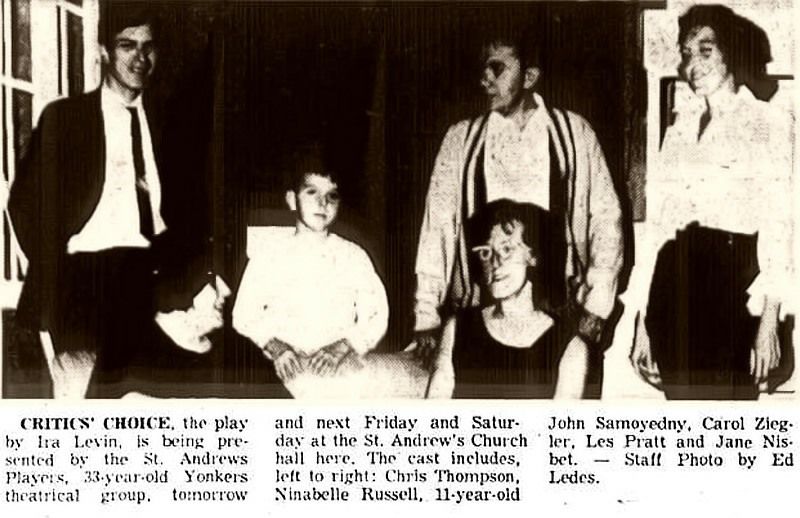 The Getty Square Players
29. Dec. 9, 1967. Probably due to the declining fortunes of the St. Andrew's Church, at the end of 1967 the St. Andrew's Players moved to St. John's Church and changed their name to the Getty Square Players.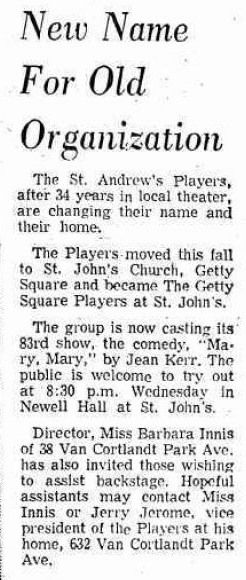 30. May 23, 1968. "Picnic" by William Inge.
St. Mary's Players
31. May 15, 1976. Newspaper evidence -- i.e., absence of evidence -- suggests that the Getty Square Players did not last for very long after 1968. But according to this article's (perhaps confused) account, many of the St. Andrew's/Getty Square Players members moved on to join the St. Mary's Players, which carried on for several more years.