***The old
Herald Statesman
excerpts and other newspaper clippings are from the PDFs at the Fulton History
site
.  Unless otherwise indicated, the dates below refer to the dates of the
Herald Statesman
or, if before 1932, the
Statesman
.***
49-51-53 Palisade Avenue is an unusual corner building -- the same street is on both of its sides. Where Palisade Avenue (ENE in its first two blocks) would otherwise run into Elm Street, it sharply bends north. 49 Palisade Avenue is the address for the storefronts that face the top end of the ENE stretch of Palisade Avenue; 51 and 53 Palisade Avenue are the addresses for the storefronts that face the bottom end of the north stretch. This Part 1 post will look at the stores and businesses at the 49 Palisade Avenue address. Being nearer to the Square and not hidden around the corner, they probably had more prestige and fetched higher rents than the the stores at 51 and 53. We will look at the 51 and 53 Palisade Avenue stores next time.
1. 49 Palisade Avenue (right) in 2011.
The tax files say that the building went up in 1927. Maybe so, but the 1907 map shows frame structures similar in shape to today's 49-51-53. The owner is the Charles E. Waring estate -- Waring, the hat magnate.
2. 1907.
The 1899 map also shows buildings at 49-51-53. Its drawing suggests three story buildings -- today's buildings are two stories.
3. 1899 map.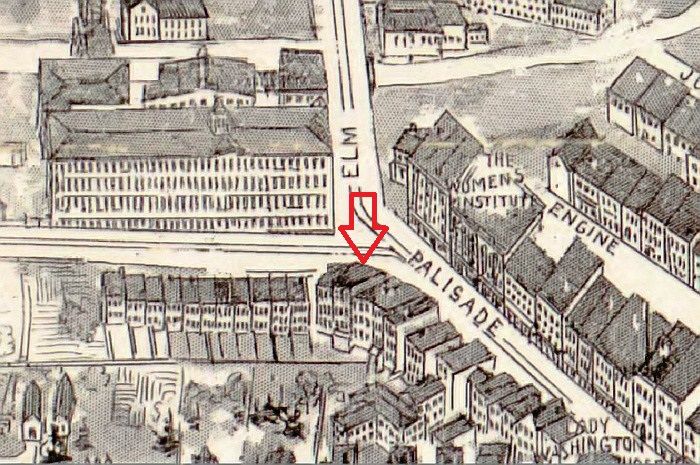 The big building on the east side was a
Smith carpet mill building
.
The first time 49 Palisade Avenue is mentioned in the newspapers is in the
Statesman
of Aug. 10, 1871, when C.E. Waring is reported as successfully petitioning the Village Trustees' Committee on Streets for permission to place a "crosswalk" in front of his "premises" at lot 49. I do not know what it meant to "place" a crosswalk or if the word "premises" at a "lot" does or does not imply the existence of a structure.
4. Jan. 3, 1888. The first store reported (in 1888) at 49 Palisade Avenue was a 25 Cent store -- presumably an upscale 5 & 10 -- that moved there from North Broadway. The next year the owner, Mr. Chadburn, was told to fix a hole in the sidewalk in front of his store. And in 1890 someone who seems to have been an upstairs tenant complained about a stink caused by people throwing rotten fish into the manhole at this intersection.
5. Feb. 7, 1890. Also in 1890, the storekeeper, presumably Mr. Chadburn, complained about loafers gathering in front of his store every evening.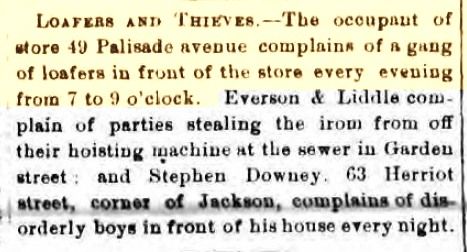 An 1894 report tells us that there was a barber -- Siegmund Lippmann -- at 49 Palisade Avenue. As we have noted, lower Palisade Avenue was a German-American neighborhood in the late 19th Century. Near the turn of the 20th Century, Jewish merchants were moving in.
For four years in the late 1890s, 49 Palisade Avenue was the location of the custom tailoring shop of Abraham Berger, DannyAbe's great-grandfather-in-law, who was later a pillar of the Ohab Zedek synagogue.  
There was an unusually windy thunder storm on May 8, 1900. A heavy wooden awning at 49 Palisade Avenue was blown down, damaging the two stores then there: Ching Lee's Chinese Laundry, and the shop of an unnamed shoemaker.
There is a gap of more than 20 years in reporting for 49 South Broadway. But starting in 1923, there was a succession of businesses at 49 Palisade Avenue big enough to advertise and leave evidence of what they were about. There was space at 49 Palisade Avenue for two stores, plus (apparently) a third space for a smaller operation using the 49 1/2 Palisade Avenue address.
6. Nov. 17, 1923. E. Petersen, Florist.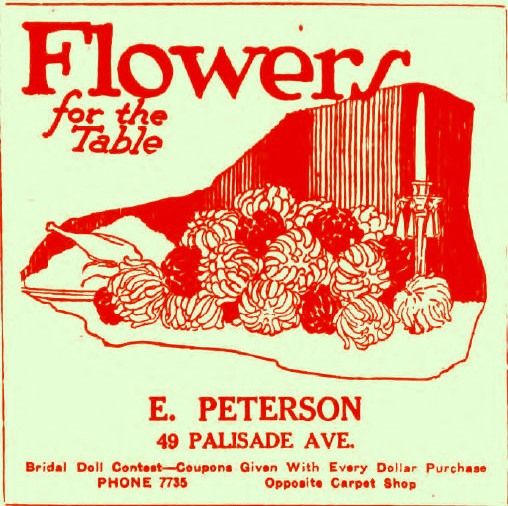 7. Apr. 11, 1924.
8. June 13, 1924. Coyle Real Estate was here for a few years and frequently advertised in the Classifieds.
9. Aug. 4, 1928. One of two newspaper references to tenants at 49 1/2 Palisade Avenue (other: No. 24 below). I don't think Ostrow was here for long.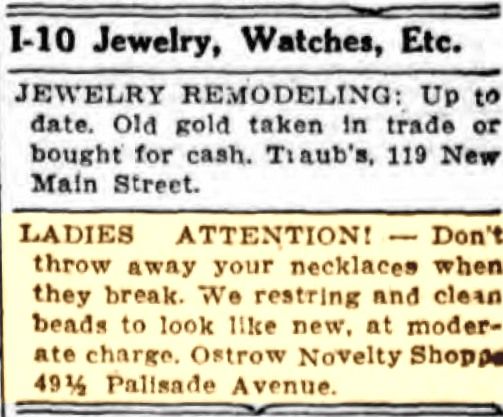 10. Jan. 21, 1929. The Envy Dress Shop seems to have gone away by 1932 (see Nos. 15 and 16) -- maybe sooner than that.
11. Mar. 7, 1931. At the end of 1925, E. Petersen moved to 293 South Broadway and became the "Park Hill Florist," while his shop at 49 Palisade was either taken over by others or rented for some other purpose. We do know from this ad that Gladys and Roland Hennessey opened a florist shop at 49 Palisade Avenue in 1931.
12. May 29, 1931.

13. June 17, 1931.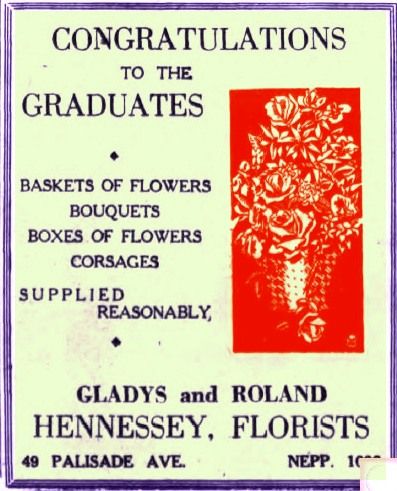 Hennessey ran some medium sized ads (e.g., Nos. 12 and 13) but they were gone before 1931, replaced by the Mirras Florist Shop. Mirras survived at least to the end of 1932 but then the record goes silent.
14. Dec. 31, 1931.
15. Nov. 3, 1932. Bertha Merrill's discount coat boutique moved in in late 1932. They were a branch of a store in Mount Vernon and their gimmick was that their brother had a coat factory and produced coats for them at a lower cost than was available to any of their competitors. The absence of more ads or other newspaper mentions suggests that this store did not stay in business for long.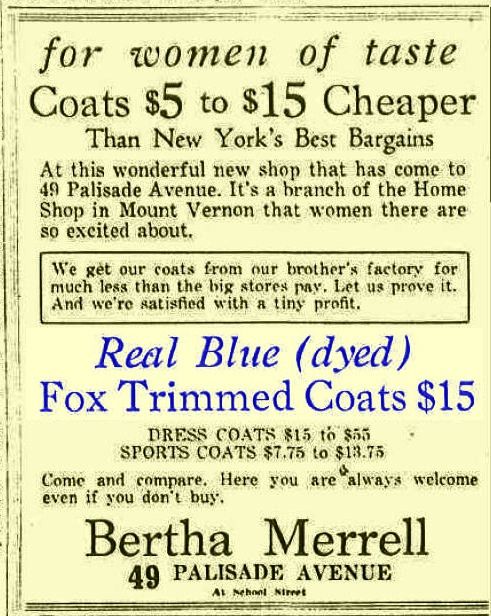 16. Jan. 5, 1933.
17.
Mar. 14, 1934
. In 1934 we find a dry cleaners owned by Benjamin Fraitag at 49 Palisade Avenue. Fraitag also owned two other dry cleaning establishments in Yonkers. He got into trouble and was eventually fined $100 for violating the minimum pricing rules of the dry cleaning cartel established under the New Deal's National Recovery Act. A Mrs. Roache testified that Fraitag charged her only 39 cents for cleaning a garment when the cartel minimum was 70 cents.
It may be that dry cleaners were continuously at 49 Palisade Avenue from 1934 into the late '60s. A Stanley Dry Cleaners was at 49 Palisade Avenue in the early '50s (No. 18) and a Kent Dry Cleaners was there at least until 1967 (No. 19).
18. Tax photo, early '50s.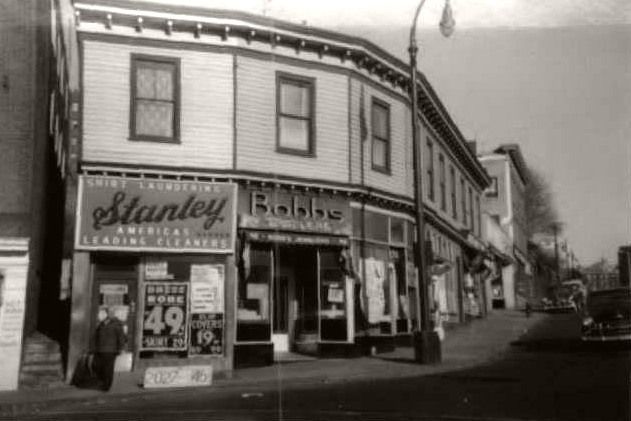 19. Apr. 12, 1967.
20. Feb. 19, 1944. By 1944 (as this human interest story indicates) and probably much earlier (he didn't advertise), Leo Berlin's Jewelry Shop was at 49 Palisade Avenue. Berlin's name is mangled here.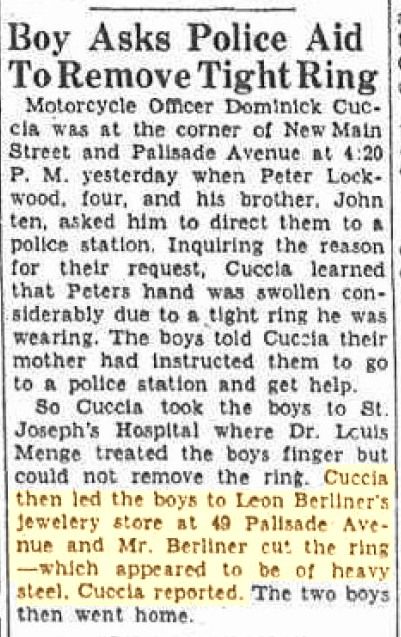 21. July 13, 1949. By 1949, Leo Berlin had apparently sold out to Robert Bottenstein, who operated as Bobb's Jewelers.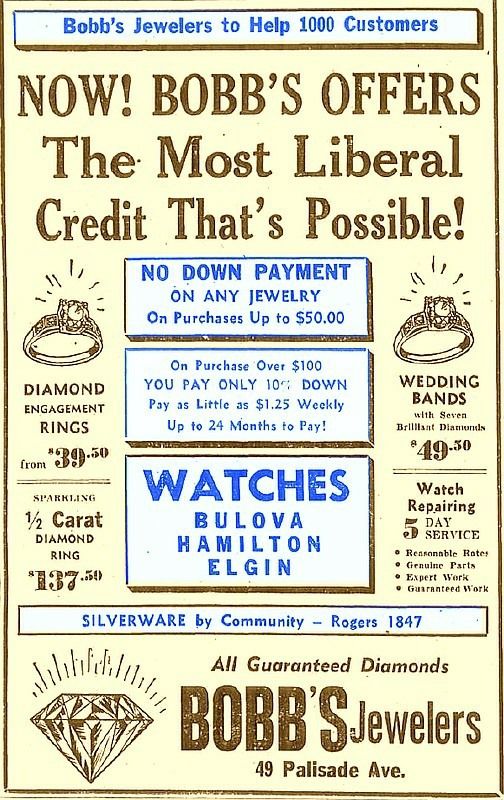 22. Feb. 28, 1950. Berlin and Bottenstein were most often mentioned in the newspaper in connection with thefts and robberies.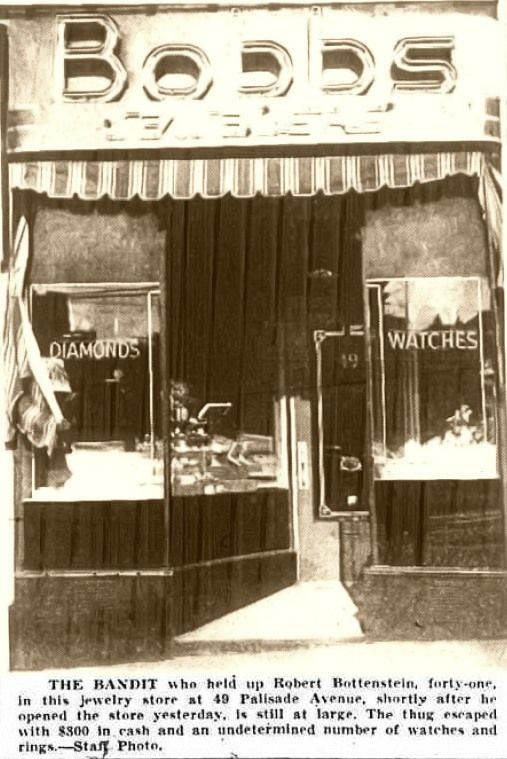 23. June 3, 1954. After Bobb's Jewelers, 49 Palisade Avenue was briefly another one of Junior Town's many locations on Palisade Avenue. (Other locations:
19 Palisade
and
18 Palisade Avenue
.)

24. Apr. 21, 1956. In the late 1940s and 1950s and at least until 1963, 49 1/2 Palisade Avenue was the office of George Rosen's United Taxi Service. As far as I can see, their market niche was their availability for rides to the Wingdale asylum in Poughkeepsie. 
25. Oct. 1, 1959. The record for 49 Palisade Avenue is very light for the 1960s and silent afterwards. We know that Kent Dry Cleaners was there until at least 1967. The Nan-Bell dress shop had a branch location there in 1959 and may have stayed there for a while. A vacancy allowed the Second Ward Republicans to move into 49 Palisade Avenue for at least a short time after the Democrats had outbid them and driven them from their location on North Broadway.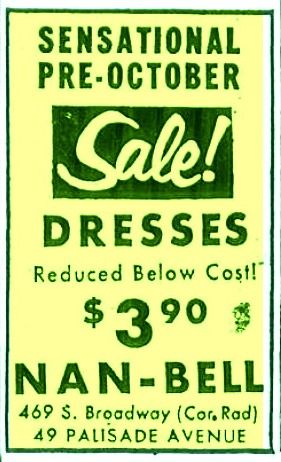 26. May 6, 1963. Probably because the building was on the outer edge of the Getty Square shopping district, it suffered more crime than stores in the center of the district. 
27. 2014 photo. Last time I checked, both 49 Palisade Avenue store spaces (and possibly 49 1/2 as well) were occupied by the Pizza D'Ora pizzeria.