On Central Avenue. It was a special occasion place. I was there maybe once or twice, when I was very small. My parents weren't crazy about it. A web search indicates that there were other Patricia Murphy restaurants, in Manhattan, Brooklyn, Long Island, and Florida. These postcards (scanned by Nick) and pictures are from the 1950s.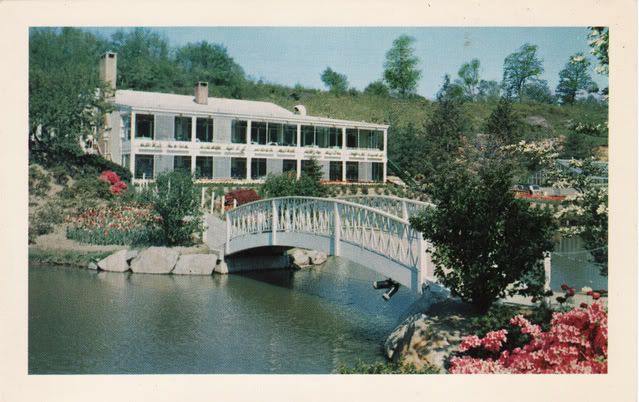 Web searches tell us that they were most famous for their popovers:
Popovers
And I found allegations of scandal. A family feud story:
Patricia Murphy was my father's sister-in-law. He managed her Madison Avenue and Westchester restaurants for years before we moved to Florida (c1975) so he could run her Bahia Mar restaurant in Fort Lauderdale and the Cascades in Deerfield Beach. They ended up in a legal dispute where he proportedly took control of the company from her and, unfortunately, ran it into bankruptcy within a few years. I am researching these things now for a historical novel.
Family feud
And a story about dead turkeys:
It was either during the late 60's or early 70's that the Patricia Murphy's on Central Ave in Yonkers was closed by the Board of Health as they had cases & cases of turkeys stored outside the building. I don't remember if the big
day coming up was Easter Sunday or Mothers Day but they were turned in & it wasn't too long after that story hit the papers that they closed. A few years after they closed, a Walbaums supermarket was built on that site, Waldbaums eventually closed an it was broken up into a Strip Mall (Radio Shack, etc).
Rootsweb Bronx Posting
Just before the time we left Yonkers, in 1964, I think I remember Patricia Murphy attempting to branch out into retail food. I think I remember some Patricia Murphy food products in the Yonkers supermarkets.